This may shock all of you, but when I am stressed, sad, upset or just feeling down I turn to shopping for relaxing. If I buy something, it is a bonus for sure, but definitely not the intention. The actual browsing, trying on and walking around my favorite stores is the actual therapeutic part for me. It is my time to be alone (I do prefer to shop alone) and let my mind stray from the daily crap we all deal with. This week in particular has been a long one for me, we have had so many things going on that it has been going in 5th gear all week. To try and re balance myself last night, instead of working or spending time with the family (I know this sounds bad, but really it was for the best), I did some online retail therapy. While it doesn't have the same feel as doing it in person it definitely satisfied that bit of me that loves looking for that special piece that my closet, kitchen or house is missing. Here are some of my favorite pieces that I may or may not have purchased.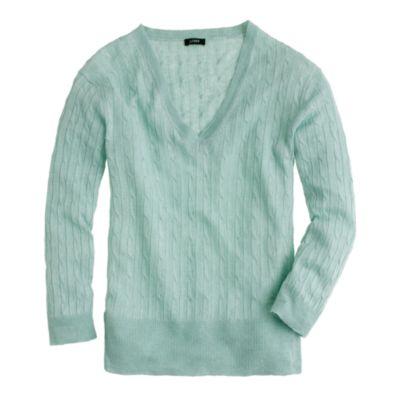 J.Crew Linen V-neck Cable-Knit Sweater
This mint sweater is perfect for those chilly spring
and summer nights.
image via J.Crew
Elizabeth and James Milo Crop Pant
A total splurge I know, but this is the only pant that
I have found that is pale pink and not super skinny.
Image via Piperlime
Old Navy Chambray shirt
This will help balance out the total
costs don't you think?
Image via Old Navy
Annie Asymmetrical Ballet Flat Sole Society
These are so perfect and Sole Society is my new
favorite shoe store. I will let you know more once my
first order arrives before I give a final stamp of approval.
Image via Sole Society
Love.
Image via Zara
Do you see an outfit too or is it just me? Maybe I do need to purchase it all...
Have a great weekend!