My newest obsession is India. I have always wanted to go and funny enough my BF goes frequently for business, but I have yet to accompany him there. Soon my friends it will happen, mark my words! Until then I am at least able to have some great Indian food available to me here and watching Bollywood movies that are filled with bright colors, flowers and beautiful clothes that the Indian women wear.
The other day I received the new
Anthropologie
catalog in the mail. It was filled with the beautiful views that I imagined India would be like (I know it's never like the movies or the catalogs, but still I can dream). As pretty as the pictures are the clothes, shoes, accessories and home items are amazingly bright and scream summer from the first page to the last. Since I am on a strict budget none of these will be bought from me until they are on sale, but there are a few items that I would love to get in my closet sooner!
Here is a link to the
online catalog
, I think you will enjoy it.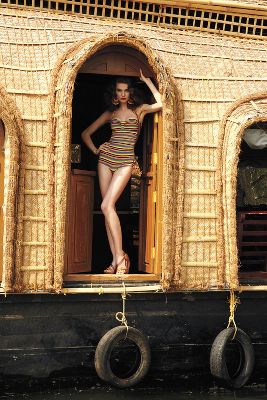 This swimsuit is a must have!