I am afraid of spiders.
There I said it. They creep me out because they have eight legs and are not cute. I usually freak out when I see them and in fact I was almost in tears thinking about having to breakdown my shelves in the dining room (for the new buffet/wine cabinet) that are pretty deep and I knew were housing spiders, like it was their own personal condo. The next day though I found my big girl pants, put on some kitchen gloves (that covered me up to my elbows), had two vacuums, multi-purpose cleaner and decided to just get it done. After a few breaks and a frantic chase with the vacuum to get the offender, I prevailed, made it through and had a drink. This however does not mean I am ok with spiders now, it just means that I can do it if I want...and most of the time I don't.
Also, you can keep your
lies
comments about how harmless they are and how I am bigger, etc., etc.. I know all this and I am perfectly aware of how ridiculous this is. Just roll with it and have a fantastic weekend.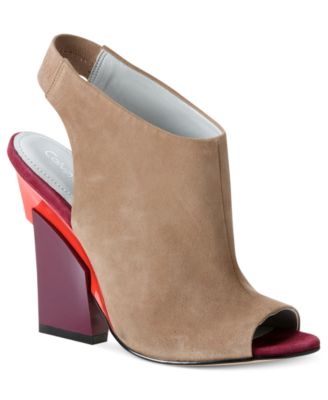 image via Macys.com
Want
- I have been lusting after
these shoes
for two weeks now, but just can't justify the purchase right now. We had our vacation last month and just bought a new couch (and a few accessory pieces) so I am keeping the wallet in check. Oh how lovely these are though. I am really into the orange, purple and khaki mix though, so who knows what will happen if the right sale happens.
Image via Amazon
Read
- If you are looking for a new book, Daughter of Empire: Life as a Mountbatten sounds fascinating. I found it through this
article
on Vanity Fair that is worth a read . This woman has seen a lot.
Image via AquaFarm
Need
- One of the downsides of traveling is that I have the hardest time keeping plants (mainly herbs) alive. Leaving for a weeks to a month at a time make it difficult to keep the water flowing and a plant nurse doesn't have enough water for that length of time. This
AquaFarm
however might be the key to keeping fresh herbs growing with or without me.
Watch
- Just do it. It's an actual product (that you kinda wish you had invented) and a brilliant ad. It will give you a laugh.
image via AMC
Learn
- The University of California, Irvine is offering a free online course called
Society, Science, Survival: Lessons from AMC's The Walking Dead.
It's an eight week course that will include topics such as the spread of disease, the science behind decay, math (that is not so awesome) that is used to model population and epidemic dynamics, post apocalyptic nutrition and much more. You can sign up
here
to get your zHD and by now I am sure you know I have already signed up.